Our Mission
The purpose of the Alliance for Good Government is to foster, protect and promote the welfare and interest of the citizens of the State of Louisiana by bringing together thinking citizens into an organization to promote public policies which benefit the New Orleans Metropolitan area, the State of Louisiana and the United States of America. The purpose is also to research and inform the public on any issues that relate to taxes, bonds, amendments, etc. This will be done as part of the Alliance for Good Government's endorsement process in each parish and voted on by each parish with the President's supervision.
Membership
Once a member is accepted by the board of directors and stays active for six meetings, they may become an executive member. A member must pay his/her dues, attend monthly meetings and forums, participate in campaign activities organized on the behalf of endorsed candidates and assist in making the banquet a success.
For further information on membership contact the Chapter President for your area.
Application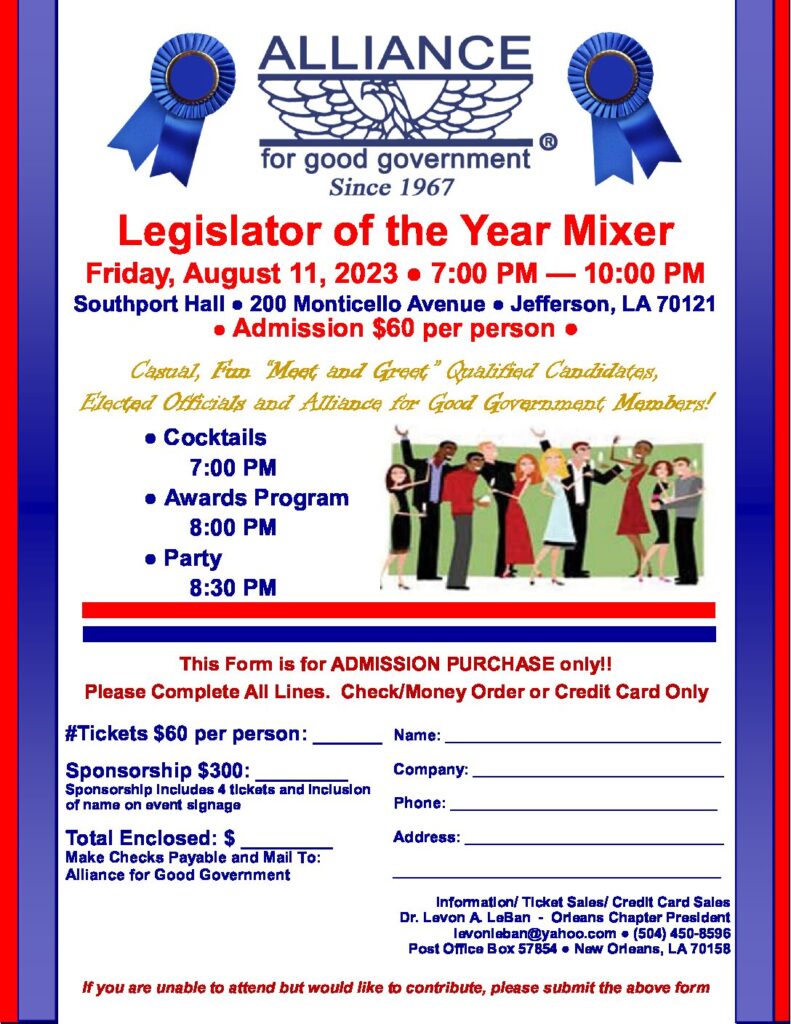 The Orleans Chapter of The Alliance for Good Government encourages all registered voters to participate in the upcoming elections for political candidates seeking office in Orleans Parish.
Early Voting:
March 11th – 18th
(Excluding Sunday, March 12th)
Election Day:
March 25th, 2023

Orleans Parish
The Orleans Chapter of The Alliance for Good Government is proud to support the following candidates in the upcoming election. All registered voters are asked to consider the following candidate for good government:
Endorsed Candidates: March 25th Election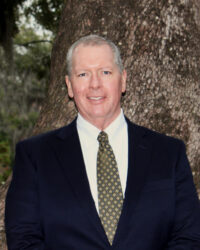 David Jefferson "Jeff" Dye
Judge, Orleans Civil District Court, Div. B
Ballot #8

Previously Endorsed Candidates
"Luke" Mixon
U.S. Senator
Ballot #9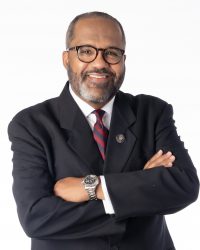 Troy A. Carter
U.S. Representative,
2nd Congressional District
Ballot #17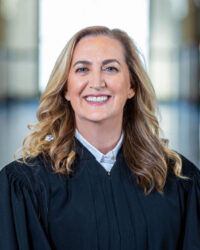 Karen Herman
Judge, Court of Appeal
4th Circuit-at-Large
Ballot #45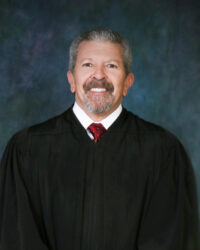 Mark Shea
Judge, Municipal
and Traffic Court, Div. D
Ballot #60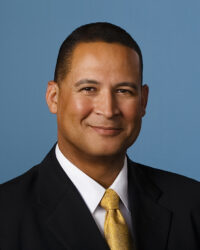 Austin Badon
Clerk, 1st City Court
Ballot #63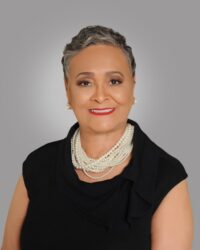 Leila J. Eames
Orleans Parish School Board
District 1
Ballot #65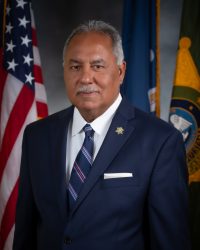 Marlin N. Gusman
Sheriff, Orleans Parish
Ballot #4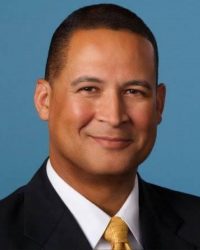 Austin Badon
Clerk Criminal District Court
Ballot #8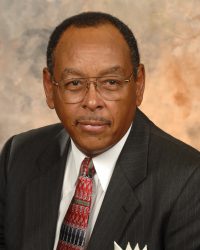 Erroll Williams
Assessor
Ballot #15
Helena Moreno
Councilmember At-Large Division 1
Ballot #31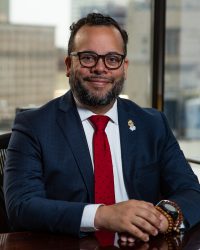 Jean-Paul "JP" Morrell
Councilmember At-Large Division 2
Ballot #36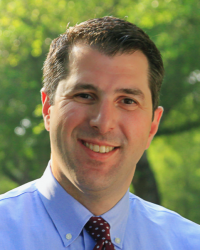 Joseph "Joe" Giarrusso III
Councilmember, District A
Ballot #37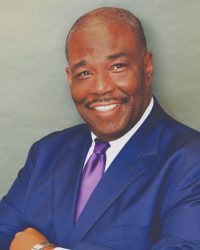 Jay H. Banks
Councilmember, District B
Ballot #40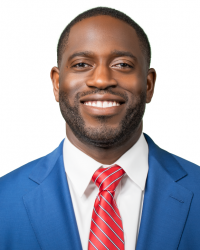 Freddie King III
Councilmember, District C
Ballot #46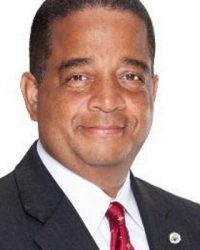 Eugene J. Green Jr.
Councilmember, District D
Ballot #57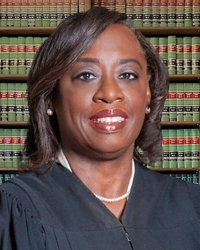 Judge Piper Griffin
Associate Justice Supreme Court,
7th Supreme Court District
Ballot #49

Judge Omar Mason
Judge, Civil District Court,
Division E
Ballot #73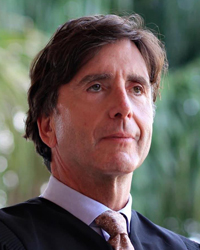 Judge Chris Bruno
Judge Civil District Court,
Division F
Ballot #74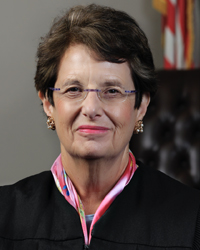 Judge Robin Giarrusso
Judge Civil District Court, Division G
Ballot #77

Michael "Mike" Hall
Judge Civil District Court,
Division I
Ballot #79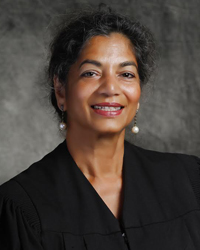 Judge Bernadette D'Souza
Judge Civil Domestic,
Section 1
Ballot #83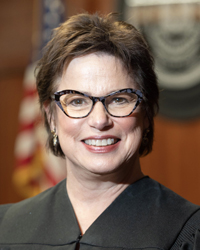 Judge Laurie White
Judge Criminal District Court,
Section A
Ballot #86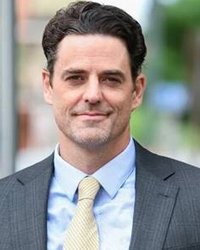 Graham Bosworth
Judge, Criminal District Court,
Section D
Ballot #87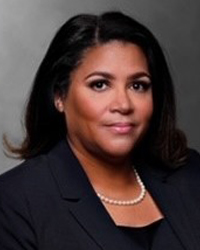 Rhonda Goode-Douglas
Judge Criminal District Court,
Section E
Ballot #90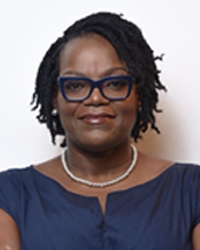 Nandi F. Campbell
Judge, Criminal District Court,
Section G
Ballot #92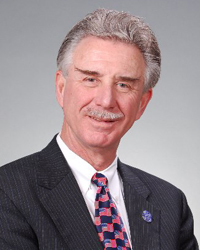 Charles "Gary" Wainwright
Judge Criminal Dist. Court,
Section K
Ballot #96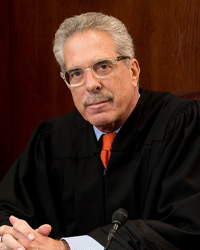 Judge Franz Zibilich
Judge Criminal District Court,
Section L
Ballot #98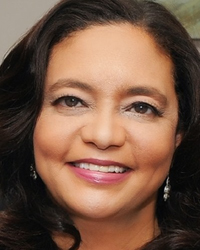 Juana Marine Lombard
Judge, Magistrate Section,
Criminal District Court
Ballot #99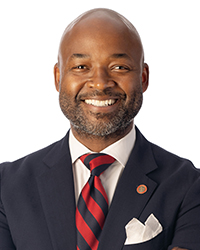 Jason Williams
District Attorney
Ballot #104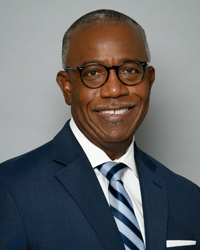 Clinton "Clint" Smith
Judge, Juvenile Court,
Section A 
Ballot #107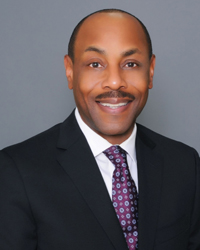 Ranord Darensburg
Judge, Juvenile Court,
Section F 
Ballot #109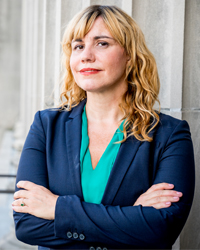 Meghan Garvey
Judge, Municipal and Traffic Court,
Division A
Ballot #113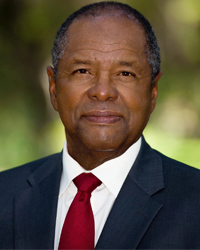 John A. Brown, Sr.
Member of School Board,
District 1
Ballot #118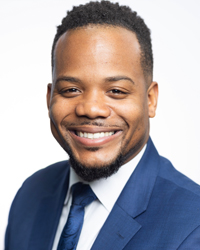 Ethan Ashley
Member of School Board,
District 2
Ballot #120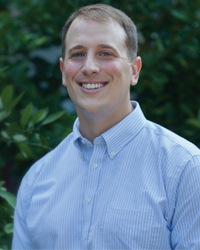 Olin Parker
Member of School Board,
District 3
Ballot #128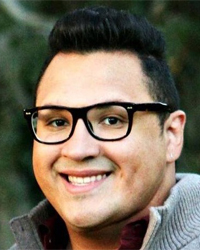 J.C. Romero
School Board, District 4
Ballot # 130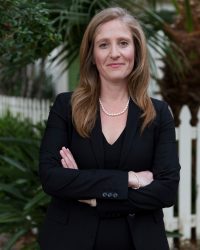 Sarah Lewis
Judge, 1st City Court, Sec. B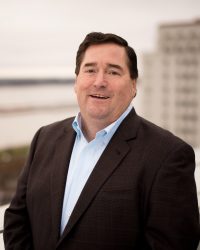 Billy Nungesser
Lt. Governor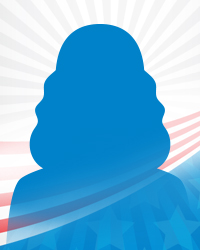 Gwen Collins-Greenup
Secretary of State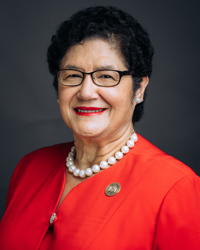 Grisela A. Jackson
School Board, District 5
Ballot #133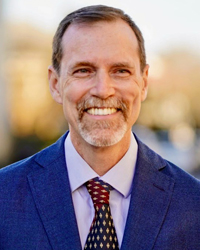 Carlos Zervigon
School Board, District 6
Ballot #137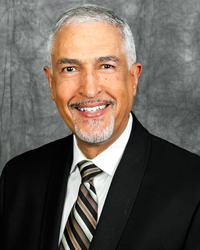 Nolan A. Marshall, Jr.
School Board, District 7
Ballot #140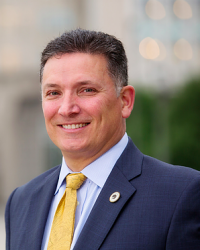 John Schroder
State Treasurer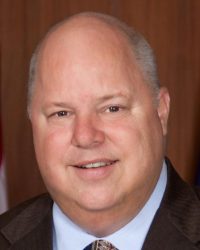 Mike Strain
Commissioner of Agriculture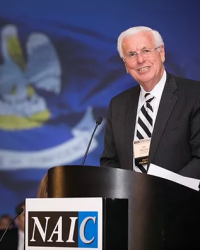 Jim Donelon
Insurance Commissioner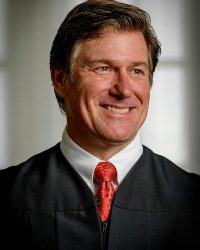 Hans Liljeberg
Assoc. Justice, Supreme Court,
1st District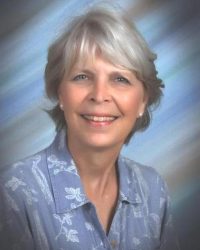 Lee Price Barrios
Board of Elementary and
Secondary Education, District 1
Dr. Ashonta Wyatt
Board of Elementary and
Secondary Education, District 2
Dr. Joseph "Joe" Bouie
State Senate, District #3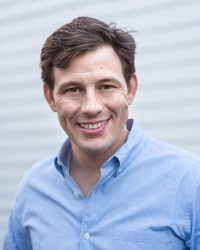 Carling Dinkler
State Rep., District 91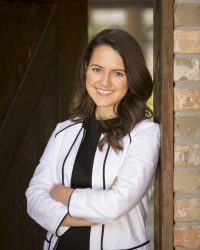 Stephanie Hilferty
State Rep., District 94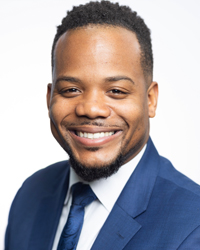 Ethan Ashley
State Rep., District 97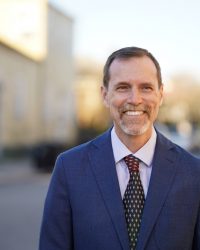 Carlos Zervignon
State Rep., District 98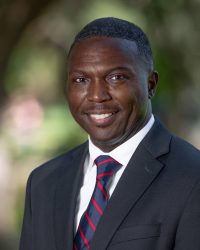 Jameel Shaheer
State Rep., District 99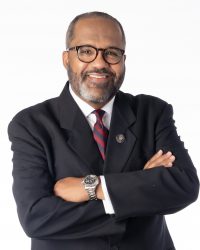 Senator Troy A. Carter
U.S. Representative, 2nd Congressional District
Ballot #4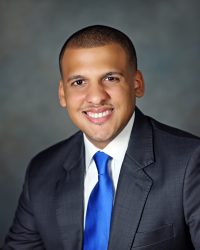 Jason Hughes
State Rep., District 100
Orleans Parish
Chapter Leadership
Parliamentarian
Dr. Robert Dahmes
Vice President
Richard Hebert
Treasurer
David K. Groome
Board Members  
Atty. Daniel "Dan" Macnamara
Atty. Robert "Bob" Moffett
Shannon Sims